I'll bet you've never heard of Lari, have you? Well, it's the home of that awesome yellow package of pasta you've never bought because it's a bit expensive, Martelli. More on Martelli pasta later, but we also stumbled upon a darn good meal. We at at the Antica Osteria al Castello in the heart of Lari, right next to the Market Portico, which they finished in 1565.
The place is nicely done. It has a couple of rooms and a nice wine celler. Good music. ("It's important, music, because you must come to stimulate all your senses" said the waitress.) Fall is a great time to come here.
I ordered a lot of odd stuff. Martha not so much. She started with Martelli spaghetti with thyme pesto & anchovies, cherry tomatoes, and croûtons. I've often wondered why Italians didn't work more with thyme, as it grows wild all over Tuscany. This dish showed how good wild thyme as a primary taste could be. It was the most photogenic of our primi, so I'm showing it on the left.
I had the Maltagliati with wood pigeon and juniper berries ("Badly cut" pasta sheets with ragu di colombaccio e ginepro). It was mighty tasty, but didn't look as photogenic as Martha's pasta—as it was mainly brown with little balls of juniper.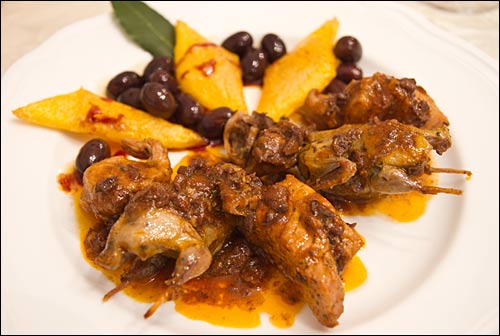 And if you tend to wretch at the thought of my eating wood pigeon (not a wooden pigeon, although that might satisfy some requirements for roughage) you will definitely stick up your nose at my choice of a second plate. Wait, it doesn't sound bad in Italian: Tordi al tegame con bocconcini di maiale, olive amare, and crostini di polenta. What it is you can see in the picture (click to see it bigger): little thrushes with some bitter olives, bits of pork, and fried polenta.
Did you know that the species of this songbird is Turdus musicus? I thought not.
Anyway, the waitress was quite pleased with my choice, telling me that this was just the season for this type of dish and she'd pour a local wine from the hills around Pisa that had a nice body to go with my dish. She did too, but that's another story.
It was good. Very good. I mean the wine and the dish I had ordered.
Martha had one of the healthy appetizers as a second plate, insalate di farro della Garfagnana e funghi porcini su crema de ceci, which is pretty much a farro salad with fresh porcini sitting on a virginal white lake of creamed garbanzo. It was good, but the thrush was better in my opinion.
I'd give them a 4.5 out of five stars. There was only one other diner on a Thursday lunch out of the tourist season. Lunch was a pricy 72 Euro, with two plates each as described, two glasses of local red wine and a single coffee.
Antica Osteria al Castello has occasional events, many of them based on music and wine or some combination of the two. You can find out about these on the Antica Osteria al Castello Facebook Page as long as you can decipher Italian.
Antica Osteria al Castello
Piazza Matteotti 9/13
Lari (PI)
tel: 329 2088155
Closed Monday evening and all day Tuesday
Here's a Map of Lari, Italy to get your travel juices flowing.
For what to do in little Lari, check out Lari, a Castle Town in Tuscany, Revisited
---