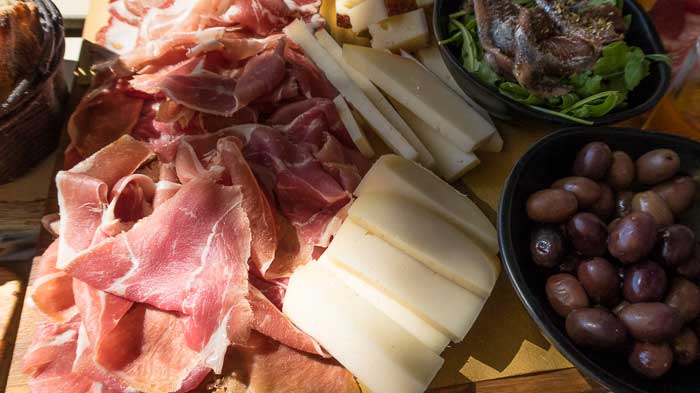 Let's say the sun is shining. You're in the Cinque Terre. You're feeling a bit peckish.
You want a bit of food, a view that lets you know you're not in Cleveland, and a wine that will make you crazy happy.
Go somewhere that will get all your senses in an uproar. Somewhere you feel fully alive. Somewhere wine glasses crash and scatter their shards but you are so happy you can only manage a silly grin. These are times nobody sleeps. Nessun Dorma.
Nessun Dorma is a restaurant in Monarola which, like Tastevere KmZero in Rome, doesn't have a stove. Or maybe they have one but don't use it. On a warm summer day who needs hot food when there's the famous anchovies, olives, cheese, artisan cured pig parts, capers and other stuff gathered and fished for.
For a mere 28 euro you can chow down on the signature appetizer plate. Four meats, cheeses, anchovies, fruit, olives. It's not really a "plate" but a big old slab of wood larger than most people's cutting boards and it's loaded with good eats. More than enough for 3 or 4. Add a bottle of the crisp house white and it'll only set you back another 14 euro. There are salads, bruschette, sandwiches, and desserts.
Gaze at the sea, the village, or your sweet honey across the table. It's all good.
Let's talk about them tables, eh? They have these odd, wide slots in them. Your wine glass will sit perfectly still when you span those slots with the base of one. But if someone where to bump the table, just a little bit, then the glass will fall and shatter on the floor, which is also slotted so that trying to slide your chair up to the table will become a daunting task. We witnessed four shattered glasses. Only one came from our table. It happens all the time, the waitress explained. We could tell. Nobody cares. It keeps the glass people employed.
I highly recommend Nessun Dorma for the food, the people watching, the village staring, the wine, and the laid back attitude as the glasses shatter. Expect to wait for a table. Apparently other people like it too.
Nessun Dorma
Località Punta Bonfiglio
Manarola
As you pass through "downtown" Manarola, keep to your right as you reach the port and head up the ridge where you see the tables and umbrellas and hear the smashing wine glasses.
The restaurant is in the region of Liguria. Ask any tourist and they won't know that. It is also in the Cinque Terre, which they know like it's the password to eternal bliss.
---