It always seems like it should be really easy to define the structure of an Italian meal to folks. First, of course, you tell folks that Italian food doesn't exist. That makes 'em stand up and take notice. Then, once you've got them used to the fact that Italian food is really regional, you lose the heart to tell them that each village has its traditional way of preparing the regional dishes.
But even if you talk about a single, optional element of the meal, like the Antipasto course, you have to go on and on about what to expect in each geological area, island or city. It's amazing—but fun when you travel for taste.
Antipasto in the Lunigiana Territory of Tuscany
Here in the Lunigiana we have a strong antipasto tradition. If you don't want pasta, or if you are a mangione, a really big eater, you say you want antipasti. That's it. It comes. You don't have to say what you want, what the cook wants you to eat will arrive. There's the room temperature antipasti, followed by the tiepido, the tepid. At the end they'll bring stuff they had to fry or serve hot, the stuff that takes a bit of time.
This is when your bulging stomach might protest. Just a little. If you're not ready for all this, you might utter a little "wow."
This is the kind of thing we ate yesterday at Albergo Ristorante Da Remo in little Monzone.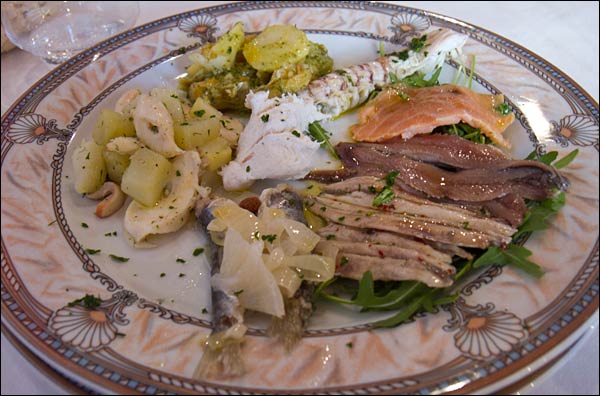 But today in La Spezia, we ate the big plate of Cicchetti that you see in the picture above. It's the Veneto version of antipasti, found mainly in bars that specialize in it, here transported from the Veneto to Liguria. It's seafood, lots of baccalau and anchovies prepared various ways. Octopus with potatoes. It made a great lunch. Substantial enough, but light.
So here I was feeling smug that our little corner of Italy had such a great antipasto tradition, while places like the Emilia Romagna, famous for its food, almost completely lacks such interesting pre-dinner tonsil-tinsel. It's right on to the pasta for them. They are serious about eating. Harrumph.
Antipasto in Sardinia
But then there is Su Cumbidu in Cagliari. A couple started this place essentially to bring the groaning excess of the agriturismo table right smack into the city. Thus you can expect to get served hearty country food right near the port of Sardinia's capital.
Well folks, hearty doesn't even begin to describe it. Look at the picture. What you're seeing is antipasto for two. It doesn't matter if you were a mangione when you entered Su Cumbidu, if you don't consider yourself one after you exit, then you've left enough food on the table to feed a country like India or wherever your mother told you would welcome the food left on your plate (you ungrateful whelp!) when you were a kid.
Folks who eat here get annoyed because you actually will have a harder time refusing this course than you would trying to build a full size Nuraghe using only Lego Bricks and an electric mixer.
Waitress (with dainty hand motions): "How about a little antipasti? Just some vegetables, maybe a teeny-tiny bit of meat?
You: "Really light on the meat, please"
And pretty soon they're bringing in the carpenters in to shore up the table that's wobbling under the weight of your food and in imminent danger of collapse. Oh, and yes, those are snails front and center, another Sardinian specialty.
Look at that table. How do you explain that? Especially when there's a pasta course and four kinds of meat coming…
And the maialetto sardo, the small suckling pig Sardinia is famous for, was fabulous, as were the three quail steamed with mirto branches and the stewed horse and the lamb.
The meal at Su Cumbidu, with all I've described and pictured, including wine and mineral water and fruit and sweets, was 50 Euro for two people, the same as the Cicchetti.
Mama mia. People should complain.
What antipasti dishes will you find in Italy?
See: Antipasti: Italian Menu Master
More on Food in Italy
Spaghetti alla Nerano and its Derivatives
Fava Beans: The Time in Italy is Spring
Confusion on the Menu: A Peachy Fish
Lunigiana Saffron: Terre di Bigliolo
Panettone and Other Christmas Cakes
Typical Christmas Menus in Modern Italy
---