I have spoken of Ristorante Venelia before. It has grown to become one of my favorite restaurants in the Lunigiana. I miss this sort of thing when I'm away from my Italian hideout: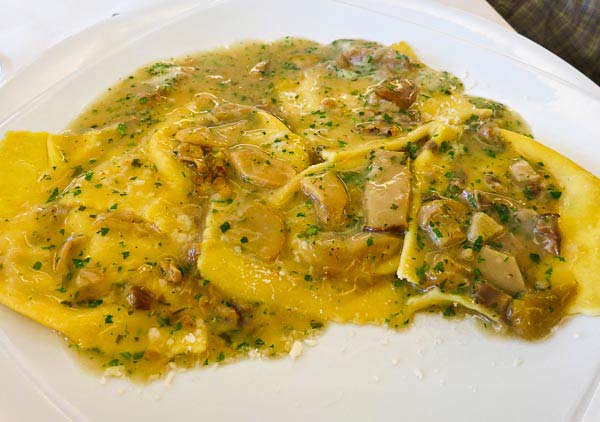 You can trust the Venelia to serve up enticing dishes featuring local food and seasonal cuisine. It is located in Monti (the name Venelia references the ancient name of the village), in the shadow of the Castello di Monte which sits high on a hill, visible from the restaurant's front window. (The castle, by the way, was built around 1275 and in 1355 became the possession of the powerful Malaspina di Villafranca family. And get this: "The castle of Monti still belongs to the descendants of marquises Malaspina who use it as summer residence. Is visible only from the outside." ~ Monti Castle)
The Venelia is attractive inside, made more so by the wall of wine interspersed with traditional country sideboards. Yes, it's comfortable in its un-flashy almost stodginess.
But the food! It was Saturday, so there wasn't a cheap worker's lunch. Still, our lunch, which consisted of the food in the pictures herein, with a bottle of the house wine (a real bottle of decent wine, not a carafe of vino sfuso) a bottle of water and coffee ran a reasonable €46, tax and service included.
Our primi (pictured above) consisted of large plates of Tortellone stuffed with squash, Martha's doused with porchini mushrooms, and mine in a zucchini, tomato, speck and butter sauce. The homemade pasta was superb with either condiment.
For our secondi piatti Martha chose lamb with artichokes, a wise choice. The artichokes were creamy, cooked long enough to shed much of their bitterness—and they sat atop some of the finest lamb we'd ever tasted. Massese lamb, from around Massa, "the lamb that Machiavelli preferred" according to the lit. One of the fun things about eating in Italy is the careful sourcing of ingredients. The lamb was cut thick and cooked fairly rare, our preference. It was incredibly good.
My pork tenderloin with Gorgonzola sauce, seen above, was quite good as well, and came with roasted potatoes with rosemary. The portions were huge, especially after the pasta. So who needs supper anyway?
Go here:
Ristorante Venelia
Via della Resistenza, 54016 Licciana Nardi, Italy
Other Posts mentioning Ristorante Venelia:
Plan a trip to La Lunigiana
---