Yesterday we hopped the coastal train heading north to meet author David Downie in Camogli, a coastal town in Genoa Province. To pass the time I read several chapters of his book, Paris, Paris. A half hour's reading made me wish I could write half as well as he does. David had me so immersed in underground Paris that I emerged at the end of the chapter quite surprised to hear Italian spoken all around me.
The hazy heat of summer was upon us, and so the train was clogged with beach-goers. The English speakers followed the siren song of the cult-leader with the two first names (Rick Steves if you must know), alighting at Riomaggiore with a clamor of uncertainty. The tanned and toned bodies stayed on, enjoying the sudden airiness of the coach and delighting in the availability of seats.
Martha and I walked and chatted with David from the station past the Wednesday open-air market lining the main road to the port—not a long walk but I seemed to have generated a good deal of hunger from it. We arrived early to the Ristorante La Rotonda, where we could watch the sea hit the rocks below and discuss the food. The octopus in the Insalata di polpo alla ligure wasn't just fresh, it practically melted in your mouth—and the anchovies, simply cured in lemon juice and drizzled in Ligurian olive oil were superb as well, indicative of the simple preparations preferred by the folks living along the Italian Riviera.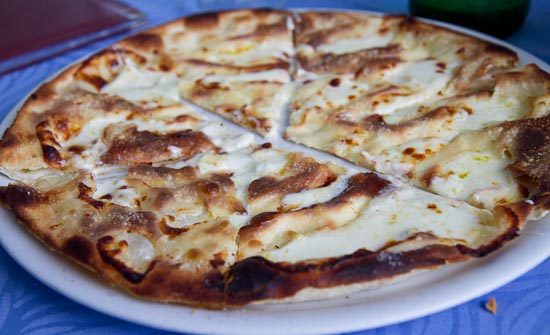 First up was the Focaccia col Formaggio di Recco. A cheese focaccia born in the nearby city of Recco, but famously served at the Rotonda and recommended by David. In short, we devoured it. Creamy, fresh cheese, bubbling with heat, great underlying focaccia. It's good to eat with the author of Food Wine The Italian Riviera & Genoa (The Terroir Guides). We would have missed the focaccia entirely, despite the sign on the upper story announcing the Rotonda as a "focacceria" rather than a ristorante.
If swapping stories inside one of his recommended Ligurian restaurants with a man who has penned what many call "the bible of food guides to Liguria" wasn't enough, there was, of course, the eye candy of Camogli itself, visible from the open restaurant. In some ways it's too bad Americans get off the train so soon. On the other hand…
Read more about David Downie and his books on his Amazon Page
Read about the iconic foods of Liguria.
Read More Articles About Food in Italy
Pignoletto Rosso Polenta, Oh My!
Davide Scabin: Innovative Italian Cuisine
Spaghetti alla Nerano and its Derivatives
Fava Beans: The Time in Italy is Spring
Confusion on the Menu: A Peachy Fish
---