I may be the wrong person to ask about romantic destinations, but what if I found you a town that features a "kissing alley" called Vicolo del Bacio (and another called Vicolo Veloce —for the men I suppose), has as its patron saint St. Valentine, and every summer celebrates the Vico Love Fest?
In addition, there is probably one of Italy's most loved bar/pasticcerie right on the main drag.
Vico del Gargano; remember the town's name. It's in Puglia.
One of the endearing things about the south of Italy is that the conservative religious community kept love in check (or thought they did) until fairly recent times and just now we outsiders are hearing the clever ways in which the "virginity forever" crowd was defeated.
Vico, you see, had quite a few narrow alleys like the one in the picture. Let's say that you and your sweet honey wanted to kiss and to rub your bodies together lasciviously—in public, because that was your only choice. Well, what if you picked a narrow alleyway and pretended to be passing in one direction at the exact same time as your little pumpkin happened to be passing in the other? Sure, you had to brush up against each other. And if you were face to face it stands to reason that your moist and yielding lips might, if one leaned in a bit to keep the cobwebs from brushing one's collar, come together. And if two people puckered?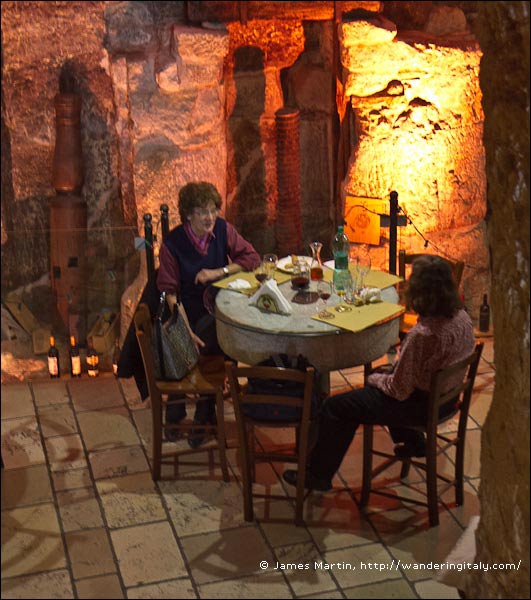 But Pico del Gargano's romantic allure doesn't end a narrow alley named Vicolo del Bacio. There are romantic places to eat and drink in Vico del Gargano. My choice would be in the dramatically lit Il Trappeto, an old coooperative olive mil in which the tables are the ancient grinding stones (covered in glass) you see in the picture, set in front of the oil extraction machinery. And Il Trappeto isn't just a gimmick restaurant, the food is excellent. The food is traditional, the lighting dramatic, and the owner eager to please.
You can even stay at an "Eco" B&B in Vico Del Gargano, and have breakfast every morning in one of Puglia's (and Italy's) most famous bars—the Bar Pasticceria Pizzicato is justly famous for just about anything you can put in your mouth. Giuseppe Romondia is your host, and he speaks English expertly.
And finally, you can attend the Vico Love Fest in July and enjoy live music and, of course, food.
Take your valentine to Vico del Gargano if you want an unusual but interesting vacation. Rent an apartment like this, it's part of the Pizzicato EcO B&B, a sort of "albergo diffuso," a quartet of apartments around town that have been recently restored for tourist bliss. Imagine a kitchen and great views for the price of a hotel room. And you don't have to fix breakfast every morning, you just stroll over to the Pizzicato and have it. It comes with the apartment.
And just in case you need more incentive to visit this land, Vico del Gargano is one of I Borghi Piu Bella d'Italia and it's la città dell'Amore.
And you've never heard of it, right? The allure of Italy doesn't stop outside the city limits of Florence, Venice and Rome you know.
---
See a Puglia Map and Travel Guide
More Articles About Puglia on the Wandering Italy Blog
Radical Restoration of a Masseria In Pugila
To Russia With Love: Romantic Vico
Puglia at Speed: A Fast Travelogue
Celebrating Citrus in the Gargano
Pathologically Pugliese: the Evolution of Pagghiare
---