There is something magic about coastlines. Land plunging into the sea exposes itself to constant and brutal battles with the sun, wind, and water. Everything is exposed, polished, modified. Trees struggling to grow in the crags bend into bonzai with no human intervention. Herons bank into the wind, dive, eat. Waterfalls leave colorful trails in the rock faces.
Levanto is a pleasant coastal town in Liguria west of the overcrowded Cinque Terre. The coast from Punta Mesco west to the town of Framura displays a colorful exhibition of this battle of the elements. Exposed along the coast is the principal local rock, a dark green serpentine—as well as the famous red marble quarried inland called Rosso Levanto. The color of the clear water ranges from deep blue to turquoise. It makes for a colorful excursion in a boat, the only way to see it.
And I am convinced there is no better boat than the Pequod and its colorful (and thoughtful) captain Marco. Marco is doing what he has always wanted to do, and is more than willing to transfer a bit of that happiness to you, the traveler. That, dear friends, is worth twice the price of a ticket to ride.
Pictures of the Coastline
There are too many pictures here, I know. It's difficult to choose what to discard. They were taken on a morning cruise with Marco in April.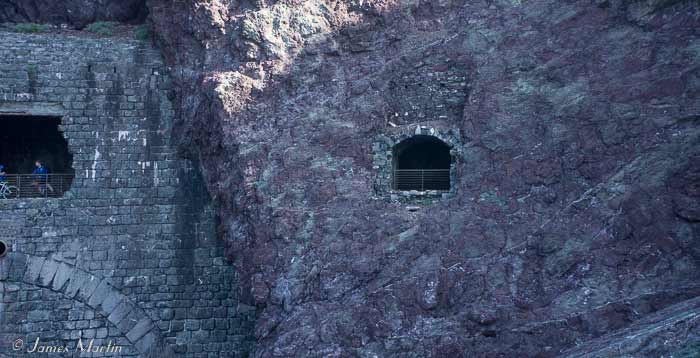 The ride went all the way to the Cinque Terre, But you've seen those pictures thousands of times on the web, haven't you?
---
If You Go
Check out Pequod Boat Tours for information on tours along the Levanto Coast. Also see their FaceBook page. The tours leave from the same dock as tours to the Cinque Terre, so if the timing is right you get to see the envy of the folks cramming into the lager ferry as you lounge in Marco's smaller boat.
We had a great stay at guesthouse A Durmì and recommend it highly. Large rooms, plenty of water pressure in the shower, a very helpful staff and a garden environment adjacent to the gate to the historic center.
See Levanto and surroundings on a Map of Liguria
More on Liguria
Sarzana: Flowers and Historic Cars
Lavagna: Eating the Fieschi's Cake
Italian Wine With a Future: Cà du Ferrà
---