Castles have been strewn everywhere in Italy, by all sorts of powerful people. A list of castles will likely aggravate your carpal tunnels; all that scrolling!
But what is the best castle? I haven't a clue. But you can bet I've seen more than my share, and many are empty and lifeless, the walls bare save for a few "representative" art fakes hanging shamelessly like defectors in yet another bloody war nobody wanted. Eye candy on the outside, a gaping emptiness inside.
But hold on. There's a very interesting castle in Piemonte I will point you toward. Its frescoes tell the story of country life in a region heavily influenced by the French in the past. Even the grotesques are charmingly pastoral. Look:
Manta castle complex is composed of a series of buildings that began with a 13th century stronghold; becoming an aristocratic residence in the 1500s enhanced by the elegant "Grotesque" hall and a gallery brimming with frescoes telling the life and times of both the aristocrats and village life. This is where it gets interesting.
When you imagine the fountain of youth, what do you see in your mind's eye? I hope your mind is ready for this:
This depiction is the brain child of an anonymous artist, painted in the "international Gothic" style. Charming, isn't it?
The frescoes in the hall were the work of one "master of Manta" who worked around 1420. Many reflect the "chivalrous" manner of life of the times reflected by admirers of the French lifestyle and codes of behavior.
A bit less charming and certainly less "chivalrous", at least for some of us, is the artist's depiction of an old man (who has evidently never been to the fountain of youth) whacking away at his uppity servant. What is the rich old coot so riled up about? It's written above the figures:
The master says, "If you don't put down that bottle, I'll whack your ears" and the servant replies, "I won't put down this bottle until my thirst is fully satisfied." (translation from "Castle of Mantua" published by FAI – Fondo per L'Ambiente Italiano available in the bookstore and highly recommended).
As you journey through this interestingly diverse gallery of country life you might get feeling a little peckish. There's a kitchen:
But the kitchen slaves no longer scurry around hanging animal carcasses dripping blood on the paving stones. The knives and cleavers are silent and it all seems more than a bit sterile. But alas! There is a place to eat! Restaurant-Bistrot-Cafè "Al Castello della Manta" offers up some very fine food. The Salt Cod stuffed Zucchini Flowers were fabulous.
So, just go down the hall to see what life might have been like for folks living at the boundaries of two countries. You won't regret a visit to Manta Castle.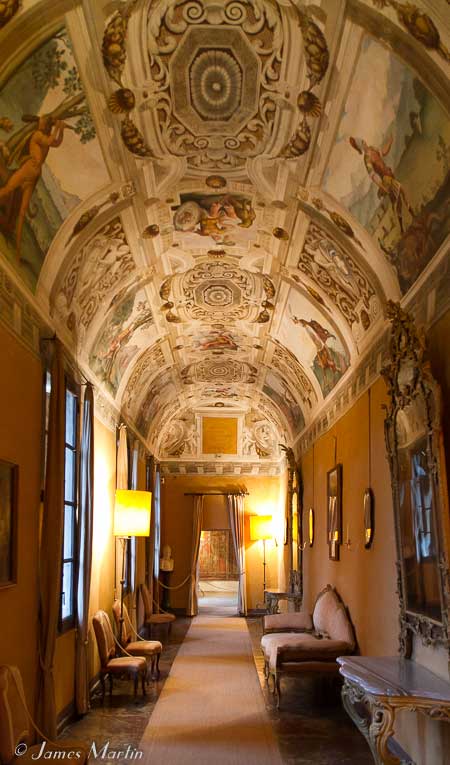 Manta Castle Visitor Information
The Castle is situated 16 km north of Cuneo and 72 km south of Turin. We were introduced to it by Marla and Fabrizio at Bella Baita B&B and recommend a stay if you really want to explore this interesting corner of Piemonte.
In the off season there is plenty of parking around the castle.
The Italian group FAI – Fondo Ambiente Italiano, has purchased and restored Manta Castle, and provided up-to-date visitor information on its site.
More Stories from the Piemonte Region of Italy
Palazzina di Stupinigi Visitor Guide | Piemonte
Liquori Bernard: The Alps in a Bottle
Barolo Chapel and Other Delights
Time Out of Time in Turin's Historic Cafes
---