It's a short walk from our humble casa to Serricciolo, where we get our coffee most mornings. The Giro d'Italia passed by today, so we came down and took up a place by the road and waited until the time the website predicted riders would round the bend in front of the bar.
They were right on time.
But let's stop the action for a moment. Let's talk pink. Pink is not considered in the same light here in Italy as it is in the US. People actually paint their houses pink and think nothing of it. Pink, as you surely know, is the color of the winner's jersey, the maglia rosa, in the Giro d'Italia. It started with the sponsoring sports paper, which was printed on pink paper and steamrolled until now there is a museum of pink jerseys.
So people dress their kids in pink and buy them pink popsicles and show up on the verge of the road for the manly cyclists who dream of wearing pink some day. Here's some evidence because I know you think I'm pulling your collective leg: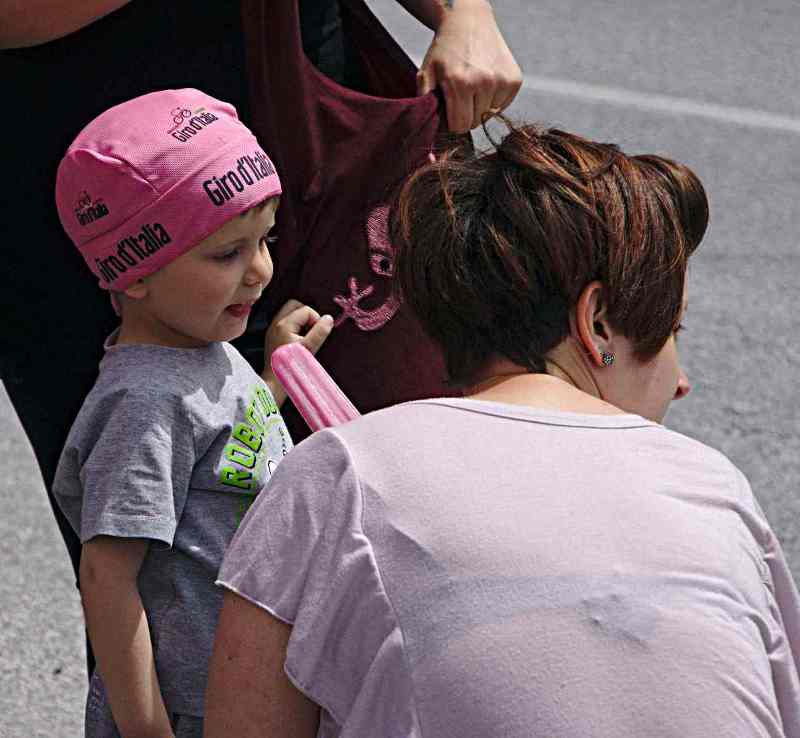 And it's not just the human kids, either:
So let's star the clock and see the first group of chasers:
These guys are seriously thinking pink.
But the scenic direction is toward the Apuan Alps, the marble quarries of famous sculptors and kitchen sink producers. The boys pedal off into the sunset…
---